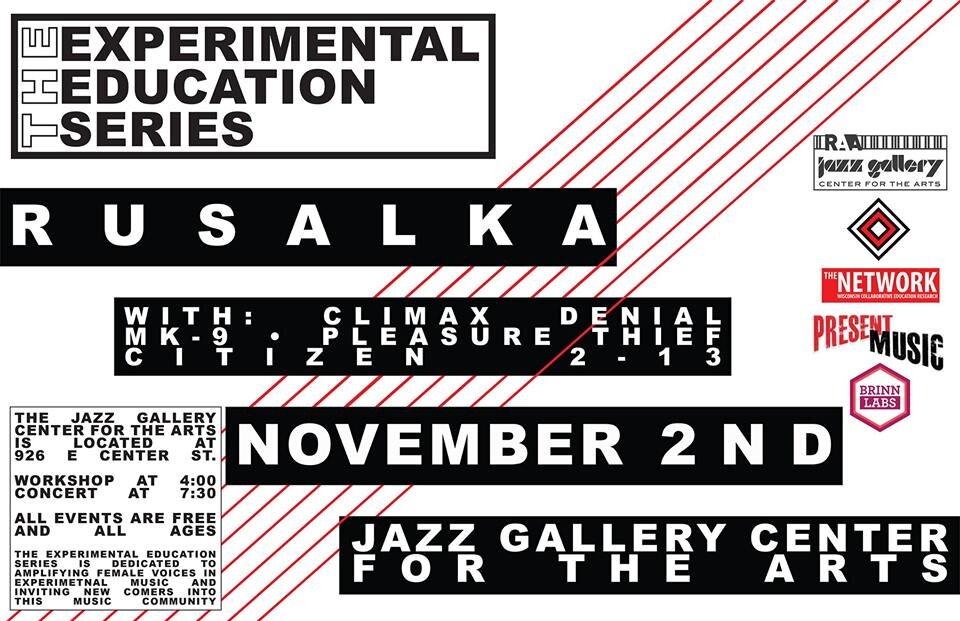 The Experimental Education Series has returned for 2019! The EES is a quarterly concert series with accompanying workshops designed to illuminate the often opaque genre of experimental music while simultaneously amplifying the voices of female and non-binary composers in experimental music.
Saturday, November 2nd
RUSALKA with MK-9
and local support from Climax Denial, Pleasure Thief, and Citizen 2-13
The Jazz Gallery Center for the Arts (926 E Center St)
CONCERT at 7:30 // WORKSHOP WITH NEPHILA at 4:00
All Ages
FREE!!! (donations encouraged)
The EES is presented by
FTAM PRODUCTIONS- http://ftamproductions.com/
THE JAZZ GALLERY CENTER FOR THE ARTS- http://www.riverwestart.org/
UW-MADISON NETWORK FELLOWS- http://pages.cs.wisc.edu/~saikat/projects/network_site/
PRESENT MUSIC- https://presentmusic.org/
BRINN LABS- https://brinnlabs.org/
ABOUT THE FEATURED ARTIST:
Kate Rissiek is an artist based in Vancouver, Canada who has performed under the name Rusalka since 2007. Employing theremin and other electronics, Rusalka achieves visceral and, at times, abrasive sounds in her exploration of subconscious states and the dark recesses of human nature. A struggle between filth and transcendence occurs which stirs together crude electronics and an ethereal electromagnetic grasp for emergence. Her recent work often features subtle, yet profound, shifts in mood, timbre, and focus demonstrating a fervent refusal to clearly delineate between introspection and observation.
"Kate Rissiek's work as Rusalka exhibits an amount of control that should induce nothing but awe, and her patience is unmatched as she explores a sound palette typically not heard in contemporary harsh noise. Utilizing the theremin in ways far from the usual, an unnerving low-end builds an increasingly tense atmosphere that is shattered with washes of high pitches and crumbling textures." - Matt "Tennis" Boettke